https://amptheband.bandcamp.com
AMP BIOGRAPHY
Amp formed out of the musical wanderings of Richard Walker (b. England) formerly in 'The Secret Garden' with Dave Pearce now of 'Flying Saucer Attack'. They recorded together the 'Distance' project from which one track 'November Mist' finally saw the light of day on the FSA album 'Distance' in 1994.
The first Amp release was an audio- cassette, accompanied by a short story, written and recorded in 1992, entitled 'Green sky Blue Tree'. In London 1993/94 Richard's 'Green sky…' inspires singer Karine Charff (b. France) and after joining Richard, AMP's first single 'Get There' is released on Linda's Strange Vacation Records. Both initially recorded some material at home and in Wales with friends Matt Elliot of 'Third Eye Foundation' and Matt Jones of 'Crescent'.
The first two singles were released in 1995, the album 'Sirenes' was released in 1996 in the UK and USA.
They played a spree of gigs around London and Bristol.
"…Amp douse their folk melodies in oceanic effects, with a commitment to fidelity so low it would make a philander blush…Amp have created a soundtrack that actually attempts to address their imaginary film they are scoring…" Christopher Porter, Alternative Press 1996.
After the two members 'Matts' departed to work on their respective projects. Karine and Richard recorded some more material in London and Wales with G. Mitchell and G. Cooper resulting in the first album for the Kranky label 'Astralmoonbeamprojections' released in 1997.
This line up continued to play live around London, as well as Leeds, Manchester, Brighton, and notably the 20th anniversary gig for the 'Rough trade' shops at the Subterrania, London. Where Amp supported Quickspace and The Tindersticks
"…. Amp's Kranky debut is a panoramic sweep of experimentation, encompassing cavernously loud soundscapes, murmured vocals and a paradoxical blend of violent ethereality…" Tom Ridge, The Wire.1997
"…. Amp is the most beautiful band currently in existence. Their music, ideas and approach to the art of sound is incredibly honest to an immaculate end…" Eric Kowalski, Millk 1997.
1998 saw Amp restructuring more closely around bi-polar forces of Karine and Richard. They work with Olivier Gauthier from France for programming, Producer Robert Hampson (Loop/Main) and together record the album 'Stenorette'.
"The Amp duo's second album for Kranky marks an obvious change in approach from 1997 Astralmoon…Here Amp makes conspicuous use of electronic beats to provide solid structures for the glacial beauty of their music…" Tom Ridge, The Wire Jan. 99.
The original blend of rock, acoustic and electronica that is 1998's 'Stenorette' album pre dates Radiohead's so called 'groundbreaking' albums (2000's Kid A) and (2001's Amnesiac)
After releasing the second Album on Kranky Records, Amp toured Europe in 1999 as a duo centred around Richard and Karine.
Space Age Recordings is Amp's new home in 2000, from which we can find first release of 'Saint Cecilia Sinsemilla' a collection of Live recordings during their European tour in 1999 including a radio session for VPRO Radio 5 in Amsterdam.
"… Hearing Amp in what is (for most people) a new context, creates a new perspective for looking at not only this release, but previous releases. I have found myself returning to their other albums and enjoying them even more than before…" Pete Baumann, Fake Jazz.com. Oct.2001.
"L'amour Invisible' was released in June 02 on Space Age Recordings. Recorded in London with Richard Walker, Karine Charff and Olivier Gauthier.
Around this time the band toured Europe more often as a 3+4 piece as Marc Challans Joins the band and Donald 'Ross' Skinner come aboard a little later.
This line-up notably support Interpol in London, at 93feet east.with members of Interpol professing to be fans of Amp!
"… And with L'Amour Invisible, I finally discovered this truly eclectic leftfield band. What they present to us in just over an hour is amazing in variety and quality. Never have I heard a band that combines different musical styles so easily as Amp…" Bas Ickenroth, KindaMuzik. Oct 2002
The new album marks another development in their sound, to one which is bolder and more direct.
Richard and Karine are joined by Marc Challans, Donald Ross Skinner (Julian Cope) and Ray Dickaty (ex. Spiritualized). Challans leaves the band in 2004 before the release of US.
'… Expansive in its claustrophobia, propelled by its own density and darkness,, it is a panegyric to a transatlantic apocalypse." Nick Southgate, The Wire April 05.
'Transmissions Phase1' 2xCDR was released on Ampbase.net, Autumn 2005. Amp's own imprint via their website, prior to a conventional release, as yet tbc.
Transmissions is a return to the landscape of 'Perception' and is intended as a kind of follow up release. Preformed by Richard, Karine and Ray.
Performed 1 concert at 'La Zone' in Liege Belgium in November 2005 with Richard, Ray, Karine, Donald, and Jason Rivers (on loan from the Summer Sang) on bass.
Amp Toured Switzerland, Germany, Belgium and Holland early in 2006. with this line-up minus Ray (who had other commitments with the Solar Fire trio).
Amp played the 'Croma Festival' in Tenerife in September 2006 as a 3 piece: Richard, Karine and Kevin Bass (of the band Snow Pony) on Drums.
Released on the 2nd July 2007, a 3xCD compilation of Amp rarities and un released tracks. Released on the RROOPP label (RR02PP) Entitled "All of Yesterday Tomorrow"
In conjunction with this release Amp played a Resonance FM radio session on the Glass Shrimp Show And played a gig in London at Corsica Studios, both times Amp was joined by Part Chimp's drummer 'Drum Chimp' (Jon Hamilton) Unsurprisingly on drums
"For many, this writer included, the loose collective that birthed Flying Saucer Attack, Crescent, Third Eye Foundation, Movietone and Amp offered a window onto a new world of possibilities informed by a quietly confident reimagining of rock history… As this excellent three disc collection of rarities illustrates, the music instigated by Richard F Walker under the guise of Amp epitomises this movement's preoccupations and preferences."
"Little of the material here sounds dated, and what does is affectingly so, like a faded childhood photograph or a half-remembered TV theme. For the most part, Amp's cavernous drones and unanchored plaints are disarmingly present in their refreshing lack of affectation or calculation. It's a pleasure to make their acquaintance once again." –The Wire
"A mind-expanding 3 CD set… the music does just what it's creator intended." "Some of the tracks featuring vocalist Karine Charff err towards conventional song structures while the loopedand treated field recordings of 'Wild Wine Gaze' churn away like a vast weather system. 'When You Have Love' is quintessential Amp, with Satie-like piano ceding to a billowing blur of electronics and unrecognisable sounds, flecked with fragments of melody." – Mojo
"This triple CD survey of Amp's work from 1992 to the present is especially valuable." "Richard Amp started out at the tail end of the UK shoegazing movement but heard in sequence like this, his music distils the scene's most appealing elements. It's surprisingly diverse: from the brooding isolationism of 'Lutin' to the Portishead-style trip hop of the recent 'Fine Day', whose elegiac mood recalls late-period TalkTalk." – Uncut
Following on from "All of Yesterday Tomorrow" Amp released a compilation of 2eps entitled "Soul Remains", an album of unreleased material entitled "Motus" in 2008 and a live album " Oetinger Villa" in 2009
In 2009/10 Amp contributed music to an underground independent film entitled "Interstate 5"
In 2011 Amp produced a soundtrack for an exhibition of the works of 'the DNA Factory'
In in December 2011 Amp release quietly 'Outposts' album digitally and as a ltd ed CDR.
In 2013 Amp release digitally and as a ltd ed CDR 'Live at Corsica Studios' again to no fanfare.
This is a recording of their gig performed in London June 2007. to support 'All of Yesterday Tomorrow' release.The release features 'Drumm Chimp'( Jon Hamilton), from 'Part Chmp', on Drums. as well as Donald, Karine and Richard.
After 2 years of complete silence, Amp finally announce a return to the studio: 'We are very pleased to announce that there will be a new AMP album! recording starts this May, and we hope for a December release date, if not, early in 2016. The Album will see Karine back from her sabbatical, on vocals again…..We hope to release an EP prior to the album being ready.'
Work on the album is still underway in 2016….
Amp create a 2 hour mixtape of existing material for an exhibition in Eskdalemuir, Scotland in May 2016
A live EP is digitally released, 'Switched on and Live' with ltd edition CDR version available from the Ampbase website.
An Amp gig in Berlin from 2002 'Berlin Magnet Club 2002' is released June 2016
And a mixtape CD album is announced of un released remixes and tracks entitled 'Q Factors (A Mixtape), released in 2017.
Here is what Adverse Effect said of it:
"Collecting ten mixes of Amp material recorded between 2000 and 2017, Q Factors may not necessarily hint at an overly prolific period for this London-based duo who last appeared on (physical) record nine years ago, but at least goes some way towards illustrating they didn't disappear completely into hibernation. Anybody familiar with Amp will know they once formed an integral part of the landscape that blurred the lines between post-rock, shimmering atmospherics, drone-rock and even ventures through more abstract divergences. The fact they were proudly housed by US label Kranky back in the late 1990s doubtlessly says much about where their foundations lay. Since then, however, they've been through several labels before going the same way as many others and having decided to keep things in-house with their own label. It's the future for many artists now, especially if fortunate enough to have decent distribution and time spare enough to deal with sundry related matters. What about the music, however? Opening with a comparatively mad and frenetic 'Drowning Mind', mixed by longterm collaborator Marc Challans, you could be forgiven for noticing a knowing nod towards former bedfellows Third Eye Foundation, but the following couple of cuts slide through more familiar fare, melding cushioned beats with ambient tones and Karine's often hushed or gentle vocals. Jazz piano chords and some weighing in with subdued drum 'n' bass embellish proceedings and although it's all a bit '90s it's a neat example of rock music sliding into the chill-zone.
Fourth song, 'Loveflower', mixed by the usually more experimental Amp side project, Amp Studio, takes on some tempered post-industrial sounds before evolving into the kinda magical pop the group are known for. This later intensifies and splices some carefully controlled noise, proving itself to be a highlight I'm sure would benefit greatly from being blasted over a PA in a huge space. I'm sure it'd sound amazing live, too. Further blending of stuttering rhythms, tonal glaze, shimmering hues and buried vocals constitutes the majority of the other tracks, sometimes recalling Cocteau Twins, but what makes Amp stand out is the little detours to more abstract realms. Always a presence anyway, these especially take hold on another Amp Studio mix, 'Push 'n' Hold', itself setting the bar for great ways forward, and the haunting 'When & Where', mixed by Jon Attwood's Yellow6 project.
'Ombres Sur La Lune', by Ladder to Royale, serves a rather sedate, tho' no less hazy, ending to the album, once again proving that for a group noted for a certain palette in their approach to music, Amp are graced with a lot of movement within it that sometimes bursts out of the seams. Next to their absence of recent years, this collection shows that all the components that drive them are far from diminished. (RJ)
Finally a new studio mini album arrived in 2018 'Entangled Time'
A Ltd edition of 30 copies signed, 10″lathe cut single of Drifting/ Will-Oh Dreams along with a Cdr edition of Entangled Time on the Sound in Silence label.
Gonzo Circus say of this release:
"Because someone still dares to call an ambient track drifting in 2018, we hiss preventively between our teeth. But even without a needle in our arm, we fall back a few seconds later. Surrounded by a warm glow of drones electronics, sea sounds and especially the heavenly voice of Karine Charff. The beat-driven Will-0h Dreams is the center of gravity of this album, and may return twice, including an enchanting version of more than sixteen minutes. It becomes clear once again that the roots of this British pair are on the good side of the post-rock sound carpets, when The Third Eye Foundation, Spiritualized, and Flying Saucer Attack belonged to Richard Walker's regular circle of friends. The cement is formed by even more meditative work, where a thin wall of drones is penetrated by voices that are in danger of drowning in their own reverberation. Here and there we hear some noise and crackling, as if Entangled Time 'a dusty attic treasure. Perhaps such a hook is thrown at a very limited 10 inch (thirty copies) that you can already order. (pv)"
Electronic Sound magazine said:
"The London-based Richard Walker and Karine Charff are Amp, whose excursions into post-rock and ambient music have appeared on such impressive labels as Wurlitzer Jukebox and Kranky. Collectively, they've worked with members of Flying Saucer Attack and Main, and their latest record is a stirring and melodic beatless work that will pull a heartstring or two. Opener 'Drifting' is a string-laden shoegaze beauty, and 'Opal Tears' is a dark epic to lose yourself in. Bewitching"
In January 2019 Amp release digitally a new drone work 'Drone in A (Yellow on Blue No. 1) saying this about the track:
Drone in A, is as the name suggests a drone based track, it is part of a collection that Amp is currently working on as an adjunct to their on going new studio album…..
Amp released a second drone track was released digitally in September 2019 entitled: 'Hypnagogic Semaphore'
Since then after realising that their location in London was creating creative blocks and the looming exit of the UK from the EU, Amp decided to relocate to Europe, and France in particular, so that the 'Trans-European Esoterrorists' could continue to be and feel European…with Covid as the back drop, they planned and executed their escape, in the nick of time doing border closures and confinements they dodged Brexit with less than 48 hours to spare at the end of December 2020.
The new studio is now set up as of autumn 2021 and Amp started work on a new album, the result, Echoesfromtheholocene was released in March 2023, the basis for the album was an NTS radio session for the Kranky channel in June 2022.
Here is what Blow Up magazine said about the album…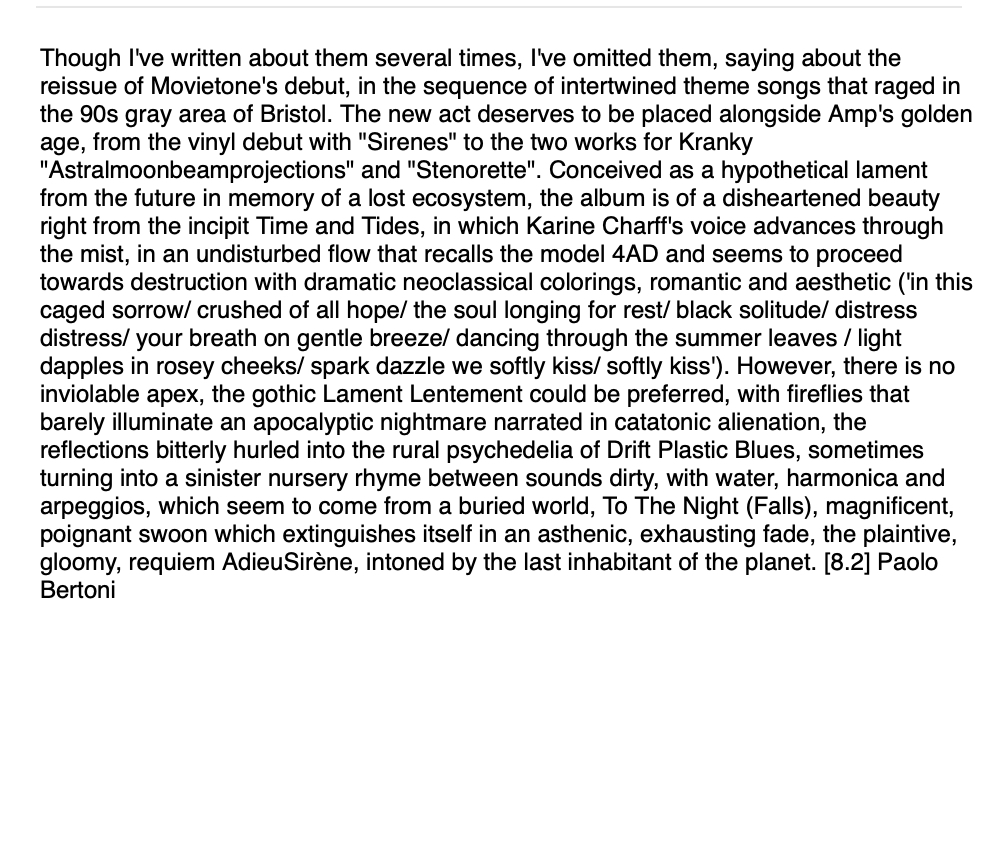 Music Map said:
For over thirty years open to innumerable collaborations, the Amp project, a lasting partnership between Richard F. Walker and the French vocalist Karine Charff, produces with unshakable coherence an icy, cryptic, variously contaminated post-rock.
Five years after "Entangled time" and twelve from "Outposts", "Echoesfromtheholocene" (released by Ampbase Records) offers nine unreleased tracks in concept form, addressing the prevailing theme of environmental degradation and its possible consequences; sort of futuristic concept, imagine that an imaginary visitor lands at the edge of the ocean in the aftermath of a generic apocalypse that has caused the destruction of the world, observing the remains of what is left.
Fluid and impalpable music, abstract and deliberately incomplete, suspended by a very thin thread over nothing, it moves sinuous and sibylline, leaving scenarios of spectral desolation in the background. As per the inveterate tradition of the ensemble, it is improper to speak of songs: rather, they are avant compositions at the crossroads between contemporary, drone-music, hints of disfigured neoclassical, hypnotic ambient, dream-pop drifts, small forays into the admirably explored noisy undergrowth come on Flying Saucer Attack.
Rarefied pieces follow one another in an alienating continuum, slender plots without a center, fluctuating harmonies, a compendium of informal art built around synth digressions, background noises, tiny disturbances, disharmonic experiments, distant vocalizations, whispers, recitatives ("Lament Slowly"). Suggestions that indifferently refer to These New Puritans of "Field of reeds", to the Seefeel of the rentrée ("Adieusirène"), to the languid atmospheres of This Mortal Coil – and of all 4AD – in the elusive ten minutes of "To the Night (Falls) ", to the Third Eye Foundation of "Ghost" in the elusive impalpable expansion of "Hollowscene".
Complex and varied album that aims to convey social commitment using an unusual language, "Echoesfromtheholocene" mixes field recordings ("Canwesavetheworld") and spoken word ("Drift plastic blues"), sporadic concessions to recognizable forms (the harmonica of "Sparkle No") and diaphanous caressing melodies ("Time and Tides"), collecting their message in a bottle within the confines – indeed ephemeral – of long free-form tracks detached from canonical structures, dreamy and catatonic invocations that trudge dying like a shipwrecked man on the shore. (Manuel Maverna)
Anxious Magazine said:
Released in March this year by the Londoners' own label from AMP, which is – nomen omen – Ampbase, the album is conceptually devoted to the general ecological and socio-political decline that has affected our planet. High-flown… But not grotesque or pompous. Somewhat in a Western anti-capitalist style, somewhat reminiscent of the Soviet-loving literature of the 1970s or 1980s, but with a strong message, and thanks to the format – we are dealing with a mixture of electronic ambient, highly synthetic and experimental post-rock and even space rock, economical in addition in the vocals – the message is unobtrusive and leaves quite a lot of freedom of interpretation to the listener himself. By assumption, all these sounds are to describe the impressions of an alien race visiting our planet, arriving here just after the collapse and disappearance of the homo sapiens civilization.
Almost an hour of music created by AMP makes a really strong impression, especially since we are dealing here with a very decent musical level, stylistic diversity and an attempt to extract from all the niches that AMP was inspired by, what is best and most relevant to the subject. You can also hear excellent facilities and instruments – whether from the hardware side (Moog, Prophet, Nord) or virtual (Spitfire). If we add decent quality own field recording to all this, then we have a recipe for a strong album.
"Echoesfromtheholocene" using uncomplicated ambient and post-electronic means of expression, paints a real dark ambient apocalypse in front of us, strikes us with sad dystopian harmony (because it is not disharmony), it offers memories of man's stay on a planet that still pulsates with sounds, but the species of homo sapiens, plays rather only in your memories. It's not an easy production, but it's also not some heavy-duty killer that you shouldn't approach without a glass of whiskey and dimming the lights. It's just a solid piece of ambitious British electronics with a slight support of field recording and guitar in the background.
I don't know how the physical editions look like (CD in a cardboard – of course – eco-package and a double lathe cut), but it seems to me that they are definitely not worse than the digital version, which is equipped with a really well-prepared and tastefully folded 24-page PDF containing graphics, lyrics, message and a lot of necessary information about the album itself. An album definitely worth listening to.
Piotr Wojcik